【摘要】
Recently, Ye Wuwei, a research team from the Institute of Cotton Research of Chinese Academy of Agricultural Sciences, conducted a study on the stress response mechanism of cotton under drought stress, and found that the endoplasmic reticulum stress thread regulated by GhCNX6 gene can improve the drought resistance of cotton, providing a new basis for the research on the molecular mechanism of cotton drought stress.Relevant research results were published online in the international well-known journal Environmental and Experimental Botany (IF=6.028) under the title of "ER whorls triggered by GhCNX6 were discovered involved in drought stress on cotton".
Drought stress will lead to cotton wilting, slow development, and ultimately reduce cotton yield.Endoplasmic reticulum (ER) is the base of synthesis of a series of important substances in cells, such as proteins, lipids (such as triglycerides) and sugars, in addition to nucleic acids.Studies in wheat showed that endoplasmic reticulum stress can regulate wheat to adapt to drought and low temperature stress, while studies on cotton drought resistance have not been reported yet.This study will help to further explore the mechanism of cotton drought resistance.
Analysis of drought RNA-sequencing data revealed a Gh_D09G2402.1 (GhCNX) gene involved in ER protein processing. Through the observation of the ultrastructure of the ER under drought stress in cotton, the characteristic structure of the endoplasmic reticulum whorl was found. Virus-induced gene silencing (VIGS) mediated GhCNX6 silenced cotton plants were found highly sensitive to drought stress. Overexpressing GhCNX6 Arabidopsis thaliana plantsshowed stronger tolerance to drought stress, indicating that the GhCNX6 gene is involved in the action mechanism of cotton drought stress and enhances the tolerance to drought stress. Drought stress leads to ER stress response, and the resulting ER whorl and CNX gene play a role in the ER protein processing pathway, thereby regulating the mechanism of cotton response to drought stress.This study can serve as a blueprint for further mining of ER protein processing-related genes, which will improve our understanding of ER whorl formation and the molecular mechanism by which genes in ER processing pathways regulate drought stress.
This work was supported by the Agricultural Science and Technology Innovation Program of Chinese Academy of Agricultural Sciences, and Supported by China Agriculture Research System of MOF and MARA. Nan Xu, a master's student from CAAS CRI, is the first author of the paper, and professor Wuwei Ye is the corresponding author.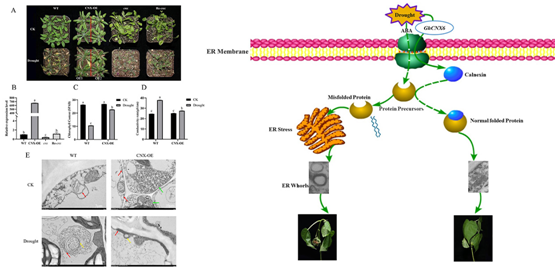 Full text links:https://doi.org/10.1016/j.envexpbot.2022.105062